Classes & Ensembles
Taught by talented Center faculty, our classes & ensembles expand musicianship, build on music-making skills, focus on history and literature of music, and deepen your understanding of music. Explore new instruments, learn music theory, or build on ensemble techniques.
LEARN MORE AND REGISTER
Prelude: Babies & Toddlers
Ages 0–4
Prelude Music's Suzuki Early Childhood Education-based curriculum incorporates singing, listening, rhythmic and creative movement, clapping rhythmically, playing musical instruments, social interaction, reading, and counting to teach fundamental music concepts.
Exploring Music: Toddlers
Ages 18 mo–3 years
Designed especially for young children, this class provides an interactive experience that leads students to discover singing, movement, classroom instruments, and making music with others.
Exploring Music: Preschool
Ages 3–5
Early childhood is a prime time to introduce children to music. Song, movement, and musical play boost early brain development and give young ones a strong foundation of connection and joy through music.
Week-Long Mini-Camps
Meet the Instruments
Ages 6–10
In our unique Meet the Instruments mini-camp, students are introduced to musical instruments of the world, from the familiar string and wind "families" to instruments from around the globe.
Exploring Music: Art, Animals, and Beyond!
Ages 5–8
Enjoy an energetic extension of our popular Exploring Music classes! Each day of this interactive and experiential week-long mini-camp explores music in a new way, such as Music and Art, Music and Animals, and more.
Beginning Piano
Ages 5–9
This week-long mini-camp invites students to explore the world of keyboards in our piano lab. In this accelerated week of training, students will build a basic foundation for the piano through engaging games and activities.
Level-Up Piano
Ages 6–12
This week-long mini-camp is perfect for elementary students who are currently studying piano in private lessons.
Ukes & Keys
Ages 8–11
Join us for this week-long mini-camp where you'll learn two instruments at once: piano and ukulele! The piano is a fun and foundational instrument, and the ukulele is one of the most beginner-friendly and portable instruments there is.
Singing Basics Bootcamp
Ages 13–16
This week-long camp focuses on tools to help young singers learn and perform songs from Broadway and the classics.
Workshop: Build a Ukulele 
All Ages
In this special workshop, students build their own ukulele from a cigar box! Students decorate the box and assemble a working instrument using a kit from MGB Guitars (provided).
Bell'a'Cappella
Adult
This ensemble for women explores a cappella repertoire of all styles, with an emphasis on ear training and vocal technique.
Community Band
Advanced middle/high school–adult
Music is more rewarding when you play together! Join our community band, which performs at civic events and presents one formal concert per term.
Jazz Ensembles
Adult
Led by jazz artist Steve Christopher, the Center for Musical Arts Jazz Program features a comprehensive curriculum and provides opportunities for students at varying levels to participate, learn, and perform.
Jazz for Singers
Adult
High school and adult singers of any level: learn the skills needed to sing jazz standards with confidence and make them your own. In this class, you will explore the stylistic, rhythmic, and harmonic approach to personalizing a melody, through variation, improvisation, and fun!
LifeSong Chorus – Memory Care
Adult
The LifeSong Chorus is a new choral group designed especially for people with early-onset Alzheimer's (and other dementias) and their caregivers. Making music brings joy, improves well-being, increases quality of life, and provides enjoyment for those living with dementia.
The Many Faces of Vocal Jazz
Adult
In this virtual class, join Faye Nepon to explore the many ways that one standard can be interpreted by different artists.
Tunewriting Workshop
Adult
Working collaboratively, students in this class will compose an original fiddle tune from scratch. Students will break a tune down into its component framework and learn which notes of the scale we use to make phrases sound open-ended, unresolved, or closed.
Fiddle Workshop
Adult
This workshop delves into the rich repertoire of tunes and songs from the American old-time tradition. Working by ear, we will collaborate on learning and arranging a tune, internalizing the delightfully crooked rhythms and furious drive of the Appalachian fiddle style.
Jazz Piano
Adult
Are you curious about jazz or improvisation? As a musician it can be fun and satisfying to not only jazz things up, but also to develop the skills to be able to play anything with chord charts, or add different rhythmic interest to a piece of music.
Introduction to the Inner Life of Music
Adult
This seminar-style class delves into the inner workings of music, starting with our sonic environment.
Note: program offerings are subject to change. Visit the link below to see the current list.
Looking for Music Lessons?
Whether you're new to your musical instrument or have been playing for years, the Center offers individual music lessons to suit your needs. Our talented faculty members welcome music students of all ages and abilities. 
Music & Wellness
We are passionate about sharing the incredible wellness benefits of music with our community through fun and engaging programs.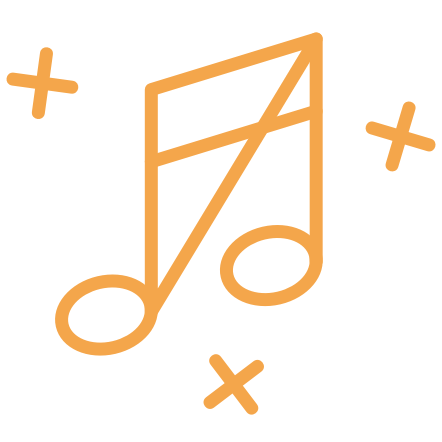 Community Programs
We provide opportunities to explore your connection with music onsite, online, in schools, or offsite at community organizations.
Support the Center Today
Your support helps us attract the finest faculty and create mind-mending, heart-opening musical experiences for students of all ages, abilities, and financial circumstances.